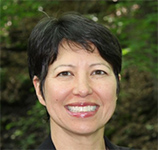 House Fellow
City Council Representative
for the First Ward
I am an elected Ithaca City Council representative for the First Ward.  This means I spend most of my time fielding calls from constituents, attending meetings, and reading reports and legislation.  If you had told me 10 years ago that I would be in office right now, I would not have believed it was possible.  Of course, there are many other aspects of my current life that were also unimaginable 10 years ago:  I never imagined that I would adopt an adolescent child (our middle son who is now 17), or be able to paddle Polynesian outrigger canoes on Cayuga Lake every summer (Cayuga Outrigger Canoe Club came to Ithaca in 2008), or that I would spend so much of my time on issues pertaining to water – water quality, water pollution, water treatment, rainwater, and watershed management.  My life is full of fun and challenge and family and beauty, and I couldn't have imagined or planned it 10 years ago.
The bottom line is, life is not necessarily made up of straight lines where you set out to go from A to B to C.  Make choices that give you as many options as possible, follow your head AND your heart, be flexible, and make sure that you do you… not your parent's idea of you, or your friend's idea of you, and sometimes not even what you think you are supposed to be. 
My partner is Becker House Fellow Ray Craib.  Ray is a funny, smart, unexpected and very cool guy – talk to him and find out for yourself!