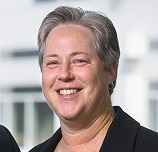 House Fellow
Cornell Chief of Police
krz1@cornell.edu
Chief Zoner is a 27-year veteran of the Cornell University Police. She started her career with Cornell Police 1991 as a dispatcher and was sworn in as chief on November 4th of 2009.  Chief Zoner is the first woman to serve as chief at Cornell.  
Zoner served on the Ithaca Rape Crisis board for over 10 years. She currently serves on Cornell's Coalition on Sexual Violence Prevention, Coalition on Mental Health, And Cornell Behavior Health Committee. She is on the University Assembly's Codes and Judicial Committee; convenes the Public Safety Advisory Committee; and chaired the Diversity Council for Human Resources and Safety Services from 2012 to 2015. Chief Zoner is an active member of the International Association Campus Law Enforcement Administrators, serving as an Accreditation Commissioner for over five years and is current Chair for the Communication Committee. She is a member of the International Association of Chiefs of Police.
Chief Zoner (KZ) is a graduate of the Ohio State University and the FBI National Academy. In 2003, then Lieutenant Zoner was awarded the Michael Padula Award by the Tompkins County Human Rights Commission for her efforts in collaborations with the Cornell and Ithaca communities. She is the chairperson for the Tompkins County Law Enforcement Administrator's Group (TCLEAG), which assembles local law enforcement leaders to collaborate on current issues in legislation, policy, training and trends. She is a founding member of the Alert Team, which serves as the coordinating hub of a network of existing resources, focused on prevention and early intervention in situations involving community members experiencing distress or engaging in harmful or disruptive behaviors.
KZ has lived in the Ithaca area since 1989. With her partner, Kathleen Pasetty, she is a proud parent of fourteen-year-old triplets. She actively participates in local charity functions whenever possible, enjoys trail riding, fixing things, and cheering her kids on in their athletic and other indoor and outdoor pursuits.