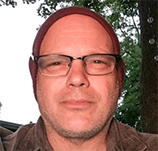 House Fellow
Professor, Department of History/Latin America
450 McGraw Hall
rbc23@cornell.edu
I teach in the Department of History, where I specialize in the history of Latin America. I've written a couple of books:Cartographic Mexico: A History of State Fixations and Fugitive Landscapes and The Cry of the Renegade: Politics and Poetry in Interwar Chile.
I've spent most of my life in schools. The rest of it I spent in bars—mostly working. I'm not entirely convinced professors should earn more than bartenders.  I'm not sure they do. Maybe we should have tip jars on the lecterns.
I used to write bad poetry; then I quit smoking. My poetry got worse.
I still like Motorhead, but it can be frustrating because I have no hair.
I lived in Madrid, Spain, in the early 1980s—I watched an attempted coup d'etat unfold and then wither, a cultural renaissance unfold and not wither, a Socialist government elected to power, and hash legalized. I was a teenager.
I went to Berlin when the wall came down. November, 1989. I had no place to stay and very little money. I met Peter Jennings (a famous reporter at the time) and asked him if I could sleep in the ABC News van. He said no.
I wish I could dance like Ian Astbury from The Cult but I can't. You may think that being able to dance like Astbury is not exactly a great aspiration and you would be right.
I was raised in a military family and moved a lot, so I tend to get restless. One year I got restless and decided to move to New Haven, where I earned my Ph.D. in History at Yale. I moved there from Honolulu. I'm not so restless anymore.  
I like creating new words. Here's one: "inflatulated." Definition pending.       
My partner is also a Becker House fellow. Her name is Cynthia Brock. She is an Ithaca City councilperson and she does amazing work. You should talk with her and learn more.