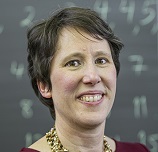 House Fellow
Department of Mathematics
tsh@math.cornell.edu
Tara Holm arrived at Cornell as an Assistant Professor in 2006.  She grew up in rural Pennsylvania and was an undergraduate at Dartmouth College.  After completing graduate work at MIT, she spent three years as a postdoctoral fellow a UC Berkeley. She enjoys roaming the world to visit colleagues and pursue beautiful mathematics.
Tara's main interests in mathematics revolve around symmetries of geometric systems. She has taught the gamut of mathematics courses at Cornell, from freshman calculus to advanced courses in geometry and topology to graduate seminars.
If she's not doing mathematics, you might find Tara whipping up a fancy or not-so—fancy meal, enjoying a local folk or contra dance, ensconced in a book, or honing her Wii tennis skills.