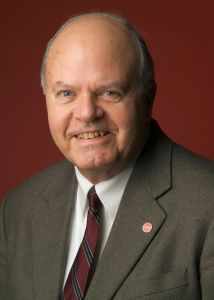 House Fellow
Professor Emeritus, Neurobiology and Behavior
University Ombudsman
255 Seeley G Mudd Bio Science Wing
cw38@cornell.edu
Charles Walcott is Professor Emeritus of Neurobiology and Behavior at Cornell University.  Dr. Walcott received his AB from Harvard and his PhD from Cornell. He served on the faculties of Harvard, Tufts and The State University of New York at Stony Brook before coming to Cornell as Director of the Laboratory of Ornithology in 1981.
He retired as the Louis Aggasiz Fuertes Director in June of 1995 to return to teaching and research. He taught the Introductory Biology Course for majors for five years and served 8 years as Associate and then Dean of the University Faculty, officially retiring as professor emeritus in 2008. He then served for 10 years as University Ombudsman.
In addition to research on the hearing of spiders, the navigational ability of homing pigeons, magnetoreception in bees and vocal communication in Loons, Dr. Walcott has taught undergraduate courses in animal behavior, human physiology and evolution. He has also participated in projects designed to interest the public in science. These have included a television series for in-school use, Exploring Nature, The Elementary Science Curriculum Study, NOVA and 3-2-1 Contact. He is currently making short videos of faculty and student research to post on YouTube.