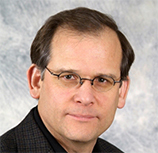 Honorary House Fellow
Senior Research Associate, Division of Nutritional Sciences
B09 Savage Hall
rlc5@cornell.edu
Dr. Richard (Rick) Canfield joined the Cornell faculty in 1990 and from that time has enjoyed mentoring many excellent Cornell undergraduates in research. As a student at the University of Puget Sound, a small liberal arts college, Rick studied psychology, mathematics, and literature.
He was a graduate student in developmental psychology at the University of Denver where his interest in the origins of mathematical knowledge led to a specialization in the perceptual, cognitive, and neuropsychological development of infants and young children. His current work focuses on how exposure to environmental toxins such as lead (Pb) and methyl mercury (MeHg) can adversely affect children's cognitive development.
Growing up as a farm-boy in western Washington State, Rick spent his childhood milking cows, slopping hogs, and cutting and baling hay. He feels at home in the rural setting of upstate New York and is an avid motorcyclist who enjoys discovering small hamlets and beautiful vistas throughout the northeast. Rick also enjoys classic and contemporary movies, sports, and gardening. He rarely turns down an opportunity to play ping pong, and has been accused by some of being a gourmet cook.